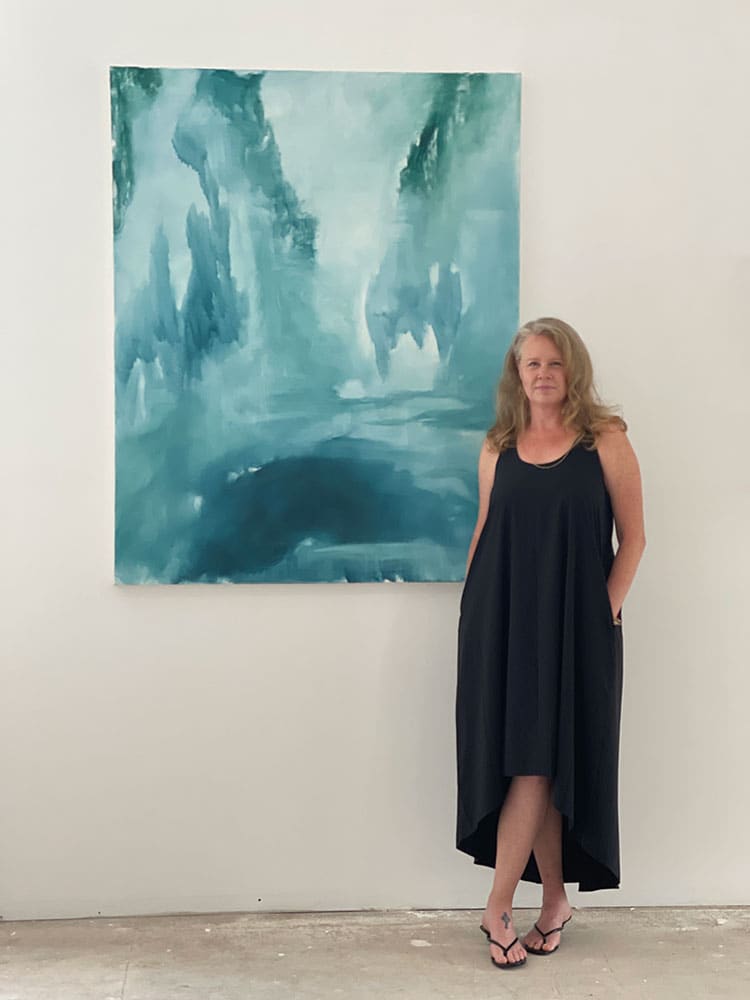 Inness Hancock
Inness Hancock is a painter whose work builds upon tradition to re-define the concept of American Landscape Painting for the 21st century. Her finely-honed skills are rooted in enduring techniques and themes. The influence of her great uncle George Inness, the American painter, is seen in her deference to beaty and technique, but her unique gift lies in exploring an expanded sense of "landscape" – not just the visual experience of the external world, but the inner landscape of the human mind and spirit. Hancock synthesizes outer and inner realms into deft compositions displaying nuance of color, texture, depth, and contrast.
Hancock's education, interdisciplinary interests, and career history have informed her current artmaking practice. Studies in philosophy primed her to explore life's deeper meaning. Her engagement with spiritual themes has had broad impact, garnering the attention of inspired thinkers. Her artwork was referenced in The Spiritual in Art, a 2015 thesis written by Yale Divinity student Betsy Moss. Hancock has fostered the opportunity for greater conversation around sacred topics. She founded Children's Prayers for the People, an international, non-denominational, arts-based project that invites children aged 4-16 to share their art among communities of varying faiths, languages, and lifestyles. As a natural extension of her aesthetic integrity and creative experimentation, Hancock pursued successful careers as both art dealer and bespoke interior designer in Manhattan before devoting herself to full-time art making.
Hancock cultivates a deep respect for nature, and is committed to the conservation of wildlife and historic and natural landmarks. She has travelled extensively to explore special locales and has rendered over two dozen UNESCO World Heritage Sites in nine countries. She was awarded an Artist Residency by Arte Studio Ginestrelle to paint in Assisi, Italy, and was invited by the United States National Park Service to paint California's Whiskeytown Recreational Area and Yosemite National Park. She was sponsored by the eco-conscious apparel brand BUFF.
Her work resides in many private collections, and has been featured in exhibitions at venues including Pleiades Gallery and Ceres Gallery in New York, NY; Katonah Museum of Art and Chroma Fine Art Gallery in Katonah, NY; Red Fox Gallery in Pound Ridge, NY; The Carriage Barn Art Center in New Canaan, CT; Downing Yudain in Stamford, CT; The US Dept of Interiors in Whiskeytown, CA; Gallery 360 Tellus in Lancaster, PA; Wingspread Gallery in Northeast Harbor, ME; and Lindhurst Gallery in Los Angeles, CA. Hancock has contributed to the vibrancy of art organizations close to her heart. She has served as Creative Director and a Board Member for Art in Store in Katonah, New York. She has twice curated Art Show Bedford in New York, and has been a Co-Chair and Advisory Committee Member of Global Fine Art Awards (GFAA). Inness Hancock lives and works in Bedford, NY and Northeast Harbor, ME.
Instagram: @innesshancock