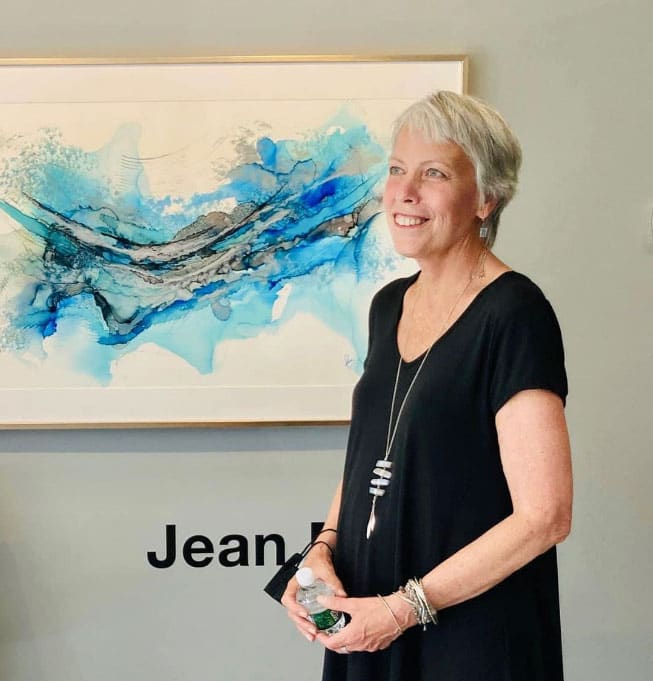 Jean Morley
Jean Morley was immersed in color, form, and creative expression from a very early age, being the daughter of two prolific painters. Morley received her BFA in college, then deftly balanced the needs of raising her three children while handling a demanding career as Creative Director for a global publishing company most of her adult life.
In 2018, however, Morley's life was forever changed – she was diagnosed with late-stage cancer, given only months to live. Morley returned to painting as a natural outlet for the kaleidoscope of emotions coursing through her. The result is a body of work with true visceral connection that reflects ethereal beauty, an explosion of brilliant color, deep layers of emotion, and spiritual awareness. Morley discovered a deeper appreciation for the small and often unnoticed miracles surrounding all of us in daily life. Her rapturous reconnection to life elicits a true sense of joy and reveals the emotional undercurrent of worlds we cannot see, but only feel.
In these challenging times, Morley remains an inspiration of overcoming odds and celebrating every minute of life. Morley's art reflects her will to survive and her enchantment with the random beauty found in the bloom of a flower, the fold of a leaf, or the wind rustling through the tall grasses in a meadow. Her paintings reflect the joy and discovery in all that is meaningful —love, family, and the enduring beauty in nature.
Morley continues to donate 10% of her proceedings to St. Jude's Research Hospital.
Instagram: @jeanmorley_art
Web: JeanMorley.com