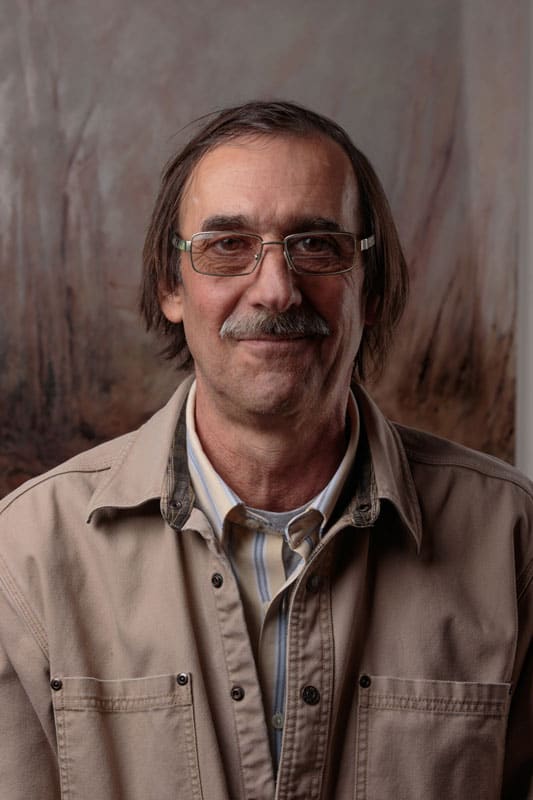 Greg St John
Greg St. John grew up in Bedford, Ohio and currently lives in Warren, Connecticut.
He attended Toledo University in the late 70's as an archeology student and while there his interests changed and he started taking drawing and painting classes at the Toledo Museum of Art.
In 1981 he transferred to the Cleveland Institute of Art where he earned his BFA in 1984. During his years at The Cleveland institute he did a year abroad at L'ecloe des Beaux Arts in Lacoste, France and SACI Studio Art Center International Florence, Italy. In 1985 Gregory moved to Lacoste, France to be a teaching assistant for painting classes.
After returning from France, Greg and a friend pioneered a loft space on the South Side of Chicago. Greg was engaged in producing numerous paintings and a large group of woodcuts of the industrial interiors and still life. In the building that he lived an architectural woodworking company was on the floor below. After they saw wood carvings Greg had done they asked him to be an apprentice; thus started his career in architectural woodworking.
In the late 1980's / 90's Greg lived in Manhattan then moved to Rhode Island. During and continuing the New York and Rhode Island periods his work changed. The woodblock printing and the painting that he had been doing back in Chicago suddenly began to merge into a series of abstract bau relief wooden paintings. During this period Greg had a several shows in Massachusetts and a pop- up show in The RED Room in New York City.
In 1995 Greg decided to relocate to the Kent Connecticut area and set up a new studio. In 1996 Greg founded St. John's Bridge LLC, a custom furniture and cabinetry business. Greg's time over the last twenty- five years has been dedicated to designing, orchestrating and fabricating custom cabinetry, interior millwork and custom furniture for his clients.
In 2014 Greg focused on his painting career, since then he has produced a large body of work. Currently he is working on large group of paintings called "The Ethereal World Series" which grew out of the Covid pandemic.
He has shown in numerous galleries, juried exhibitions and his work can be found in a number private collection throughout the United State.
Instagram: @paintgregstjohn
Web: gregstjohn.com