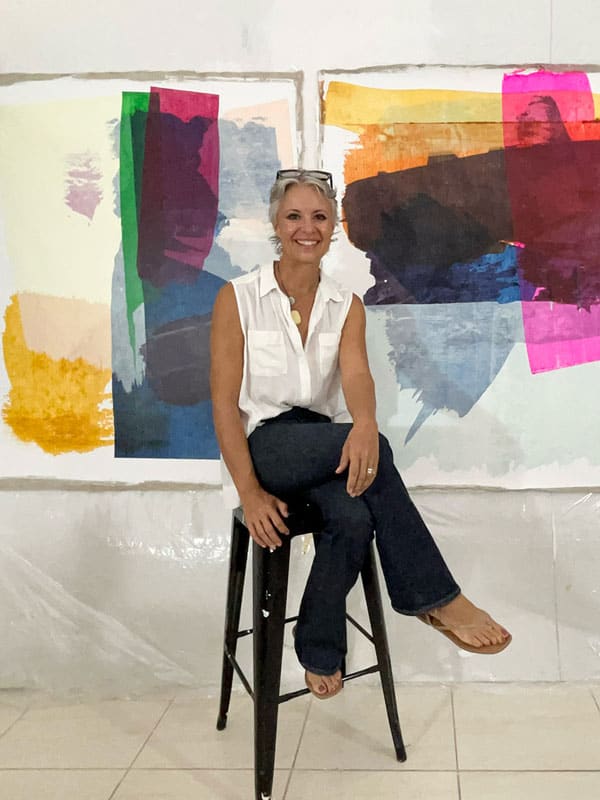 Rachel White
Rachel White MFA. is a studio-based artist producing abstract works in paint on canvas and paper, she is also an Adjunct Professor of Fine Arts in the College of the Arts, at the University of Florida, Gainesville. Parallel to her studio practice and prior to teaching at the University of Florida she held numerous positions in the New York City luxury cosmetics advertising agencies, such as Global Director of Image Reproduction at Clinique, and Global Director of Creative Operations at Lancome, YSL, Ralph Lauren Fragrances, and Tom Ford Beauty among other brands. Rachel is the recipient of fellowships from the Fine Arts Work Center in Provincetown, Ox-Bow School of Art Residency and Art on the Move, Art Residency in Detroit. She continues to exhibit her works on linen and paper. Her work can be found in international collections of art from Milan, London, Harare to Casa De Campo, Dominican Republic.
Rachel focused on large scale sculptural installation work, printmaking and digital media while earning her MFA degree in Sculpture from Alfred University. These endeavors have had a lasting effect on her studio practice and professional career in advertising. During her tenure in advertising, Rachel continued explore the printed image, as her responsibility was largely dealing with retouching and the preparation of luxury imagery for in-store promotions, print advertising or online promotions.
Her expressive, layered strokes in abstraction and representation give the viewer an opportunity to bask in the movement of her subject. There is an undertone of power, vibrant activity, and a keen attention to certain details that signify life and emotional intelligence. In these works, Rachel expresses her humble appreciation of the living things that surround her.
Instagram: @artrachelwhite
Web: www.rachelwhite.org