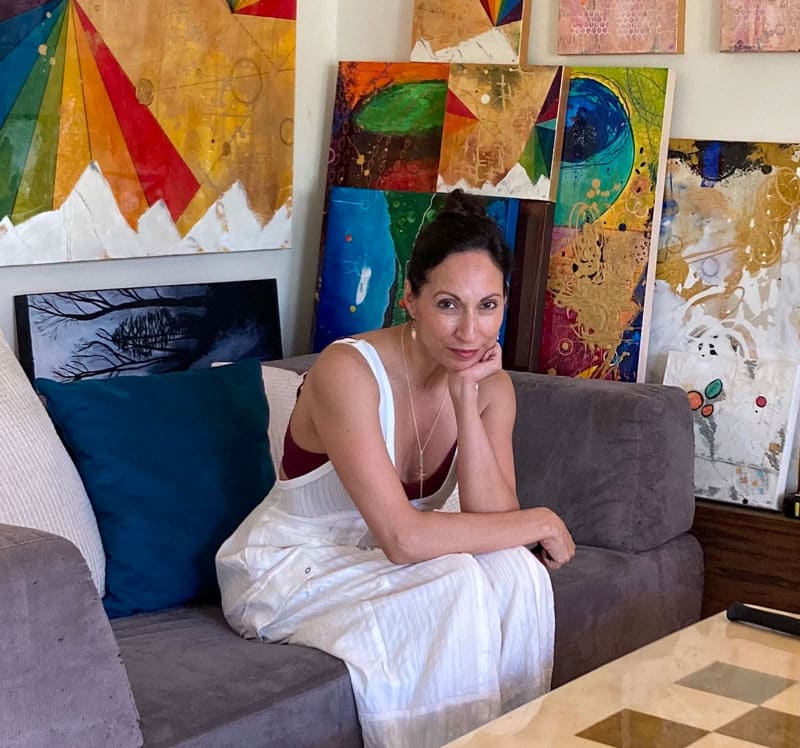 Vanessa Pineda Fox
Vanessa Pineda Fox was born in Queens, NY, to Colombian parents. She grew up on Long Island and graduated from the School of Visual Arts in NYC, studying under prestigious artist professors, such as Juan González and Richard Wilde. After graduating with a BFA in graphic design, Vanessa enjoyed working in new media in various roles as a graphic design freelancer, art director, and creative director until the artist had her first child. Eventually, wanting to focus more on painting and making things with her hands, she began experimenting with acrylics, collages, and different materials more and more.
In 2019 she was awarded Honorable Mention in the Acrylic section at the Dobbs Ferry Women's Club's Beaux Arts Exhibition. Since then, Vanessa has frequently been painting, exploring handwriting as texture, and seeing how the light play is affected using metallics, mattes, and resin. Working with reflective, refractive, or light-absorbing materials lures the viewer to look closer and incites them to make new personal associations.
By investigating language on a meta-level, Pineda Fox creates intense personal moments masterfully with handwritten messages, organic shapes, and changing color palettes. Her works don't reference recognizable forms, but the results are deconstructed so that meaning can be found in the text passages, and possible interpretation becomes multifaceted. Transformed into art, language becomes an ornament. Vanessa's artworks offer a poetic vein when her writings spill across the canvas as streams of consciousness. Sometimes legible and sometimes just used for texture.
Recent exhibitions have included numerous group shows in the tri-state area, both onsite and online. As Vanessa looks to grow as an artist, she continually seeks new opportunities to further her practice through artistic memberships, classes, and finding contemporary artists to admire.
Instagram: @artbyvpf
Web: vanessapinedafox.com